Bodyguards! Protect the page Adrianna Johnson!

This page is protected by the admins to prevent vandalism.
Adrianna



Name

Born

May 10, 1995 (age 22) (Kansas City, Missouri)

Voice

Julie

Family

Paul Johnson (dad)
Susan Johnson (mom)
Marvin Johnson (younger brother, voiced by Brian)
Gianna Johnson (younger sister, voiced by Princess)
Adrian Johnson (younger brother, voiced by Kendra)
Lester Johnson (Stephanie, Edwin and Malcolm's father; uncle, voiced by Eric)
Nick Edward Johnson (older brother, voiced by Young Guy)
Stephanie Johnson (cousin, voiced by Emma)

Others who live with her

Robert (deceased) (Grandfather, voiced by Diesel)
United 1660 (voiced by Steven)

Boyfriend

Cousins

Erett Suzettehen, Alan Cardwell, Rosie Carson, Brenda Hagedorn, Bennett Suzettehen, Carl Johnson, and Eric Johnson

Uncles and aunts

Matt and Junett Suzettehen (by her real dad), Errett and Gwen Hagedorn (by her mom), Kerth and Rachel Carson (by her mom), and Lester Johnson
Adrianna is Andrew Clark's girlfriend. She gets straight A's everyday.
Apperarance
She has blonde hair with a ponytail, wears earrings, a pink tank top, dark blue pants, and light gray slippers.
Info
Likes: Kissing Andrew, listening to music (especially Katy Perry, The Clash & Depeche Mode), playing video games, watching TV, Lester, Nick, Family Guy, Xbox, Wii, VHS and Betamax Tapes, Adult Shows, South Park, American Dad, Futurama, The Cleveland Show, Bob's Burgers, Aqua Teen Hunger Force, Machine Robo Rescue, Bleach, Attack on Titan, The Big Bang Theory, The Looney Tunes Show, United Airlines, The Simpsons, Space Dandy, Family Feud, Miami Vice, etc.
Dislikes: Being disturbed (especially when she's on the toilet), people who try to blame her, Family Matters, Step By Step, Boyzone, Justin Bieber, Rebecca Black, Paul Johnson (formerly), etc.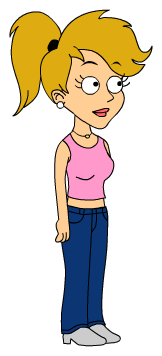 Ad blocker interference detected!
Wikia is a free-to-use site that makes money from advertising. We have a modified experience for viewers using ad blockers

Wikia is not accessible if you've made further modifications. Remove the custom ad blocker rule(s) and the page will load as expected.