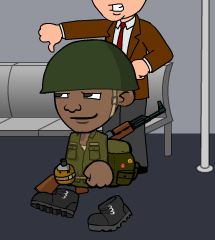 Art Carny is a soldier and serial killer who has killed many people for various reasons. He has never had a full video truly dedicated to him He finally did, but has made most of his appearances in cameos and other videos. Usually killing someone. The people he has killed have ranged from innocent to bad. Despite that, Art Carny is not entirely evil. He is also noted for his catchphrase "Well i'm done" which he says after he kills someone.
History
Art Carny first appeared in a video titled "anime" by bobobobobobo271 in which coat-man and Santa argue and he kills both of them.
He later appeared in "rip in peace" where he killed Yello Mann. This backfired as Yello came back to life and would later start his own killing spree.
The two along with Okay Daddy both made cameo appearances in "kih"
He than appeared in "Okay Daddy?" where he was brought to be sacrificed to Okay Daddy by Lasermann but managed to escape one Yello Mann intercepted. He then was in "wELL IM DoNE" where he played a wicked drum solo and crazy song before leaving.
Art Carny finally got a video about him called "art carny gets dead meat"
List of victims
coat-man - killed in "anime"
Santa - killed in "anime"
Yello Mann - killed in "rip in peace"
peenut - killed in "peenut3"
Teacher - killed in "art carny gets dead meat"
Trivia
The only official time he has never killed anyone was in "kih" and "wELL IM DoNE" both by bobobobobobo271.
Ad blocker interference detected!
Wikia is a free-to-use site that makes money from advertising. We have a modified experience for viewers using ad blockers

Wikia is not accessible if you've made further modifications. Remove the custom ad blocker rule(s) and the page will load as expected.