About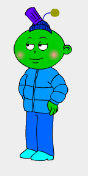 Species: "Alien"
Gender: Male
Age: 7
Voice: Eric
Epiphany's Voice: Kayla
Arty is an alien from a new baby show! It's called Creative Galaxy, in the show, Arty has a side character named "Epiphany," and the two go to these different planets to fix problems with art. In the GoAnimate world, he uses his art "powers/skills" for bad. This new baby show is only available on Amazon Prime.
Ad blocker interference detected!
Wikia is a free-to-use site that makes money from advertising. We have a modified experience for viewers using ad blockers

Wikia is not accessible if you've made further modifications. Remove the custom ad blocker rule(s) and the page will load as expected.