Bodyguards! Protect the page Brendan Barney!

This page is protected by the admins to prevent vandalism.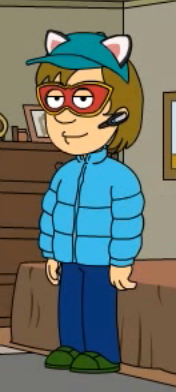 Brendan Barney is one of the well-behaved good users, who likes, and enjoys, creating and publishing grounded videos, and he has a strong dislike for the computer program, Flash, like many good users. Brendan also enjoys making and watching YouTube Poops.
However, he just disrespects GoHaters' opinion and he made rant on [GoAnimate hater videos] so, he gets a lot of dislikes than likes since he disabled rating since June 2015.
Info
Date of Birth: September 10
Voice On GoAnimate: Joey
Gender: Male
Likes
Likes: GoAnimate, Grounded Videos, Good users, and many more....
Dislikes: Flash, GoHater, ranting on his favorite websites, ranting on his favorite type of videos etc.
Ad blocker interference detected!
Wikia is a free-to-use site that makes money from advertising. We have a modified experience for viewers using ad blockers

Wikia is not accessible if you've made further modifications. Remove the custom ad blocker rule(s) and the page will load as expected.