CMSMG879 Workshop Productions

Type

Subsidiary

Industry

Motion Pictures

Animation

Founded

1921

Parent

Tigrus879 Ltd.(Former) CMSMG Industries (Current)

Founder

Tigrus879 (Former) CMSMG Industries (current)

Owner

Tigrus879(former) CMSMG Industries (Current)

Known works

The Biogenetic Mistake, Shrek Meets Comedy World, The Tigrus879 GoAnimate movie series, GoAnimate Adventures

Defunct

June 2014

Fate

Gets Absorbed Into CMSMG Industries

Type

In Name Unit Of CMSMG Industries June 2014-

Too many parameters
CMSMG879 Workshop Productions
,
(
formerly Known as
Tigris879 Productions Tigrus879 Pictures 
or
 Tigrus879 Animation)
is the name given to Tigrus879's fictional/imaginary animation/film production company. It has co-produced the Tigrus879 GoAnimate movie series and GoAnimate Adventures.
The logo for this company has appeared in Tigrus879's GoAnimate movie several times and was parodied in a handful of other videos produced by GoAnimate users Mark Romo, SuperAndrew418, and ycorreafb. It Went Defunct on June 2014 When Columbia Torch Lady Short had EXTREMELY Negative Reviews and only Grossed $1,222. It Got AcquiredBy CMSMG Industries and Now Only Operates As a In-Name Unit Of CMSMG Industries. And Newer Films By Tigris879 Productions is Under the CMSMG Animation/CMSMG Industries Banners. On September 11, 2014 The Company Has Been Renamed To CMSMG879 Workshop Productions
Filmography
The Adventures of Funnyland (an old series of homemade WMM videos Tigrus879 created when he was young, before he even heard of GoAnimate; Episodes 7 and 8)
The Biogenetic Mistake (a movie made with Spore Galactic Adventures, August 2013)
Shrek Meets Comedy World (September 2013)
The Tigrus879 GoAnimate movie (September 2013)
The Tigrus879 GoAnimate movie 2 (November 2013)
Society Overthrown (Cancelled) Now Remadr
Tigrus gets grounded (replaced with GoAnimate Adventures, Cancelled)
GoAnimate Adventures (TV style series, May 2014-Current)
Tigrus879, the movie 3, Japan Rising (Upcoming, sometime in 2014)
Mrs. Grace's Story (Upcoming, 2014)
The Great Warriors, a GoAnimate Adventures movie (an upcoming theatrical adaptation of GoAnimate Adventures, 2016)
Shrek Meets Comedy World 2: Look At The Stalker
Biogentic Back
Tigrus879: Damned To Hell And Hell On Earth
Freddy & Michael Myers V.S. Jason & Hellraiser
Halloween Go!Animate
A Go!Animate Horror Movie
Super Serial Killer
SuperMan
Supergirl
The Logo's mascot
The mascot/spokesperson for this fictional company is Tigrus879's dark chaos chao from Sonic Adventure 2 Battle, Tigrus. He has appeared in several GoAnimate videos/movies. On Newer Releases Of Old Films It Gets Plastered By The New Logo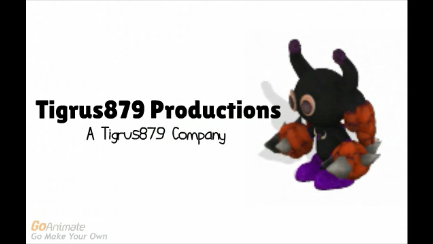 Check his article out: http://goanimate-v2.wikia.com/wiki/Tigrus
Ad blocker interference detected!
Wikia is a free-to-use site that makes money from advertising. We have a modified experience for viewers using ad blockers

Wikia is not accessible if you've made further modifications. Remove the custom ad blocker rule(s) and the page will load as expected.