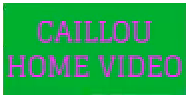 Caillou Home Video
is a fake home video publishing company that was best known for pretending to be a company of bootleg copies of
Blue's Big Musical
,
ABC's and 123's
,
Toy Story 3
,
Frozen
,
The Simpsons Movie
,
The Lego Movie
, and
Last Action Hero
in which 2,000,000 copies of one of the titles mentioned were actionally done by
Caillou
as a revenge for getting grounded by his parents. The company's most known appearance was in 2 episodes of Caillou getting grounded for making bootlegged VHS copies of two shows mentioned above. They also produce the Evil Caillou Gets Grounded Series on GoAnimate Network
The logo consists of a close-up of Caillou dancing, while the music from the S from Hell, Camp Video and Palace Video logos play as Caillou says "LAAAAAAAAAAAAAAAAAAAAAAAAAAAAAAAAAAAAAAAAAAAAAAAA!". After 16 seconds, Caillou stops talking and the sounds stop, and one green rectangle on the center saying "CAILLOU HOME VIDEO" in purple, appears.
A second variant exists, this time showing Caillou's full body dancing with Daillou. The two say "Ooooooooooooooooooooooohhhhhhhhhhhhhh...." as the same music from the original variant plays, but this time, the Camp Video music is replaced by the 20th Century Fox and Key Video fanfares. 10 seconds later, "CAILLOU HOME VIDEO" in blue zooms in to the center of the screen. Unlike the normal version, the audio plays throughout the entire logo.
There is a very different variant: consisting of a purple background with Caillou and Daillou standing on each side: then Caillou and Daillou point at each other and a red text saying "CAILLOU HOME VIDEO" forms in halves. The Palace Video logo music plays.
The 4th Variant With Caillou, Daillou and Dora Dancing While The Music Is From The Screen Gems Logo and MGM Home Video Fanfare Along Side Together, Caillou Says Oooooooooooooooooooooooooooooooooooooooooooooooooooo...". After 15 Seconds Later a Logo Appears, CAILLOU HOME VIDEO And Caillou Says Logo's Name.
In the Drillimation universe, Caillou runs into the logo as it appears on screen with the MGM home video fanfare playing in the background. After stopping, he says the logo's name.
In Konnichiku's version, it is a parody of the 1993 PBS Kids logo (a logo that Konnichiku considers scary) with Caillou, Daillou, and Baillou dancing and singing "This is Caillou Home Video!" and Caillou sings "Ooh ooh ooh" as Gilbert runs onto the screen and barks.