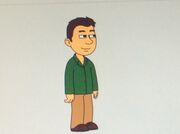 Matt Hunter is a good autistic and Asperger user on Goanimate and Wikia. His YouTube channel is called Arthur FTW Dora FTL VGCP with the Audi symbol profile.
He loves cars, traveling, video games, and Arthur. He knows everything about cars.
Voice: Joey
D.O.B: July 12, 1999
Angry Voice: Kidaroo and Scary Voice
Friends: Arthur Read, NathanDesignerBoy7, Alex Kimble, Phillip Psareas, Alan the Thomas Fan Rules, adamkleinschmight2003, Brendan Barney
Likes: cars, Arthur, ungrounded videos out of good users including Arthur Read
Ad blocker interference detected!
Wikia is a free-to-use site that makes money from advertising. We have a modified experience for viewers using ad blockers

Wikia is not accessible if you've made further modifications. Remove the custom ad blocker rule(s) and the page will load as expected.