Connery Cateni, better known by his username ccateni (formerly known as connery 8) is a GoAnimator classified as a good user that started using GoAnimate before he was known as a good user.
ccateni



Gender

Male

Age

14

Voice on GoAnimate

Eric

Friends:

Awildmew (partner) RocketPowerGal24, AMsalley94, Brendan Barney, Good users, etc.

Enemies

Trolls, Bad users, abuse, Officerpooptube247forever,Isaac Anderson Animations.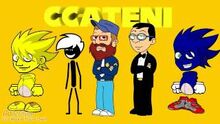 Connery8
ccateni started in May 5, 2011 as the user connery8. what he did was unboxings, opening to video games, and other videos too. The video were lame and not good as the now ccateni videos.
The Start Of Go Animate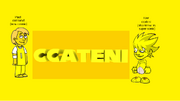 The first go animate video connery 8 did was called stop!. it was so dumb and no one liked it. So when he was ccateni, he deleted the video and it was not see again. The second video connery made a video called connery gets fat at mcdonalds and it was a hit, but it was dumb because it was him getting grounded. The video was also deleted when ccateni came around the corner. most of the go animate video were come out, but it ended when go animate stop its free youtube video maker, this means that i needed go plus to upload videos to youtube (wow, nice job go animate). The rest of the videos from connery8 were lame and bad as poop.
Entering The ccateni
On December 27, 2013, connery8 was drop as the main name and the name was changed to todays name. ccateni.the intro was a version of awildmews intro that he wasn't using.with ccateni's character/friend users dance with the ccateni logo with sonic and ccateni the yellow box also said connery8, and go animate unboxings and more. it was later updated in widescreen hd, high pitched theme, and charaters are changed (main school days me becomes bondfan94 (now amsalley94 returns)
A New Look
I saw it was being copied for things staring me and rip offed. So on February 18, 2014 i said, i was going to make a new intro and outro that no one has done before (but the game theory). So i made a intro (like game theorys) with a logo with help from theguyordie and an outro with help from him too, it was a new way to show the power of ccateni!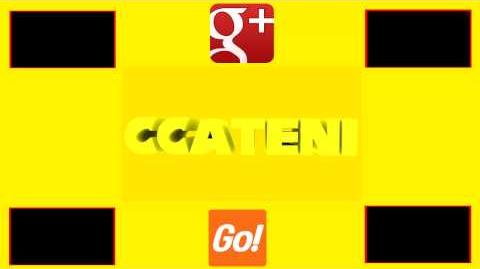 A New Intro (about time!)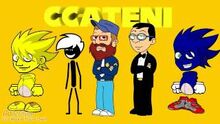 On July 31, 2014, ccateni underwent another change. This time, ccateni used the same logo, this time cropped into just the logo without the full box. With it, ccateni made a new intro that includes a remix of
Collide
from Hellberg and Deutgen, remixed by Astronaut and Barely Alive. For graphics, he included a star that people are using, and a
Today's Episode
placeholder from the
Grounded Series
intro by awildmew.
Time for another change (again)
ccateni shortly dropped the intro after a 2 month break, and replaced the intro twice. one intro was from a sony vegas movie studio 13 template, and one from blender.
Links
Ad blocker interference detected!
Wikia is a free-to-use site that makes money from advertising. We have a modified experience for viewers using ad blockers

Wikia is not accessible if you've made further modifications. Remove the custom ad blocker rule(s) and the page will load as expected.