She Used to be a Witch With a virus cause she Was A Deleted Character In Puella Magi Madoka Magica "Game" In Litwak's Computer She got out of Computer And Into the GSC Where she wanted To Take Over the arcade but She couldn't When she was Small So She Took over Someone Body And She had A Hedgehog Form she was Hiding in Hero's Duty But When She Got out she Decide To Be in her First witch form She Sat in the GSC Where Same person She Took over Played with her and told her To get Rid of  Space Marine Ralph  (wreckingduty ) So The Person Did but Charlotte when in her second form she ate Space Marine Ralph When Happen She Was Slices in half By 'Alex' (mr-nonsensology ) She Died… But Due to the Fact she Was a Virus And Was A Deleted Character In Puella Magi Madoka Magica "Game" And Became a Virus She Came Back to Life As A Sugar Rush Racer She Woke up….. Only Remembering that Someone Slices Her With a Scythe, She Bitted Mami Head off, Face Was Frozen and Some one that Was Shorter With Glasses on ('Alex') And She Remember Fave food Is Cheese 
Charlotte Cheesecake is nice She Really hate when the Racer and NPCs Say she a monster
Charlotte Cheesecake Has Problem with her Memories She Don't Remember She part Game (Which she not)
She Only Remembering that Someone Slices Her With a Scythe, She Bitted Mami Head off, Face Was Frozen and Some one that Was Shorter With Glasses on ('Alex')
She Don't Have a Kart yet…
She Don't have a house yet but she lives in Diet Cola Mountain For Now….
She Remember Fave food Is Cheese but she like cheesecake
She Love to Play Hide And Seek
She Loves the color yellow…..
She hate Getting pranked
She wished she Could Remember Who She Really Is…
She Has a kart now She Calls it the Cheesenator it look like this:
She may look like the sugar rush kids but she a doll….well half a doll……..
Her Daughter is Cherrica Cheesecake
Her Girlfriend 4th Doctor jubileena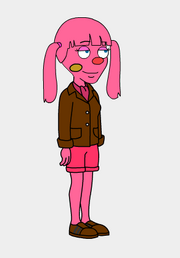 [3] She Switch Between Human And her self 
Ad blocker interference detected!
Wikia is a free-to-use site that makes money from advertising. We have a modified experience for viewers using ad blockers

Wikia is not accessible if you've made further modifications. Remove the custom ad blocker rule(s) and the page will load as expected.