Info
Birthdate: January 5, 2000
Age: 18
Nationality/Ethnicity: American, celto-germanic
Location: New York State
Trivia
His first video is Warren Gets grounded
He is reportedly LGBT
He reportedly joined youtube in October 2012, though he's only recently started making videos on Go!Animate and youtube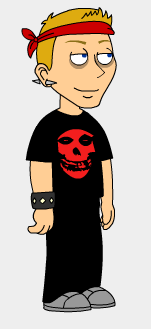 About him
CheeseDoodlesComedian2000 (known also as CheeseDoodles65) is a good user on GoAnimate and Youtube. He is nice to good users and sticks up for them! He is really nice friend of NathanDesignerBoy7, Taylor The Hayniac, and other good users on GoAnimate and Youtube. He makes good grounded videos! He is the creator of Tina and Diesel, the owners of the Tina Diesel Detention Center. He is known to be very respectful to other users' feelings. Sometime before December 2015, he parted ways with the GoAnimate Community on bad terms, citing immature and childish behaviour.
Likes and Dislikes
Likes: Good Users, grounded videos, Koenigsegg, BMW X5, Children's Ward, Top Gear, Thomas & Friends, Nintendo, Star Wars, Non-Stop, Go!Animate, Cars, The Lego Movie, GoAnimate, Super Mario, etc.
Dislikes: Miley Cyrus, McDonald's, Andy Panda, Jersey Shore (TV series), etc.