This article is about Momo YouMookSaidTimon (ShimmeringNight)'s character. For the film production and distribution studio, see Columbia Pictures. For the company that manufactures and distributes outerwear and sports wear, see Columbia Sportswear.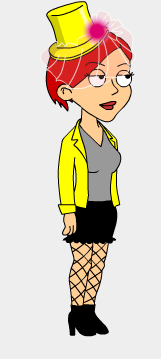 Columbia is a character in Momo YouMookSaidTimon (ShimmeringNight)'s GoAnimate videos based on the character with the same name from The Rocky Horror Picture Show. Her soul is Yoshimitsu (Tekken 4, 5).
Personality
Columbia is a flamboyant person who likes performing for other people. Like her real-life counterpart, Columbia is peppy, a chatterbox, and has no shame whatsoever. But she often hides her negative emotions very easily. She tends to have some bad luck, and she's not as happy as some people think she is. But she knows that she has friends who are always there for her. 
Likes
​Performing for others
Dancing
Music
Acting
Dislikes
When she's unable to perform with others
​
Trivia
She works part-time as a Chuck E. Cheese's employee.
Columbia isn't as perverted or sexual as her real-life counterpart. 
Gallery