Comedy World: The Movie
is an upcoming 2016 American-British film based on the animated television series,
Comedy World
. The film will be released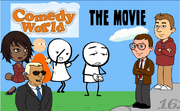 in theaters on July 15, 2016. This movie will be rated PG.
Plot
A wicked scientist named Dr. Knows-a-Lot wants to put an end to cartoons, so it's up to the two plucky heroes, Eric and PC Guy, to save every fictional character you can think of.
Production
TBE
Release
TBE
Sequel
TBE
Trivia
TBE
Transcript
If you would like to see the transcript, click here.
Deleted Content
TBE
Reception
TBE
Ad blocker interference detected!
Wikia is a free-to-use site that makes money from advertising. We have a modified experience for viewers using ad blockers

Wikia is not accessible if you've made further modifications. Remove the custom ad blocker rule(s) and the page will load as expected.