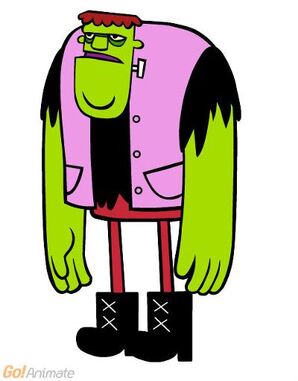 Bodyguards! Protect the page Coulden Pettit!

This page is protected by the admins to prevent vandalism.
Coulden Pettit
is a user on GoAnimate and the protagonist of his videos. He is voiced by David
and his appearance is a Frankenstein. He was the host of Parthenon Challenge. He has a morbid hatred on the phrase "grounded for life", which gets him to roar like Godzilla (except when he watches Tangled: Grounded for Life, a featurette from Disney's Tangled). He is also Theory T's enemy. As March 2014 draws to a close, his account was filed with a community guidelines strike, and is quick enough to delete "Nick Lee gets grounded for life" to save his account, at the cost of having a minimal drop of his subscriber count. His subscriber count reached 700, slowly to become a popular GoAnimator like caroline0204 and DavidComedian1991.
He is one of the most inovative GoAnimators, often using epic effects, music from Half-Life games, most prominently the "Sharp Fear Short" from both Half-Life titles. He also makes grounded videos that are unique and totally new, in which nobody have ever thought of the new grounded video type.
Full Name: Coulden K. Hintsala Pettit
Date of birth: June 6, 1998
Age: 17 (Becomes 18 in June of 2016)
Voice: David, Wiseguy (when angry), Scary Voice (furious voice), Tyrannosaurus Rex and Godzilla sound archives (when roaring) GOJIRA94 (zilla's roar & godzilla 2000's roar)
Appearance: Frankenstein (from Monster Mayhem)
Relatives: Donald Hintsala (aka. Grandpa, voiced by Diesel), Debra "Debbie" Hintsala (aka. Grandma, voiced by Kendra), Gage Hintsala (little brother, voiced by Kimberly).
Sign: Gemini
Likes: Getting his works done, playing on the computer, Pepsi, Cheetos, Doritos, McDonalds, Burger King, Wendy's, Arby's, Subway, Taco Time, Popeye's, going to OMSI, Portland, Oregon, Godzilla, Mothra, Anguirus, Solomon (from the NES Godzilla Creepypasta), Rodan, Bionicles, Cosmo the Seedrian, Louielouie95 (aka. Louie), Landon Dibbles, ajizzleh2o, Grand Theft Auto Games, Half-Life franchise, Cartoon Network, The Hub Network, plushies, etc.
Dislikes: Getting annoyed, people not listening to him, his friends getting grounded by either a Warren fan or an another bad user, Adult Swim, Johnny Test, salads,
Warren Cook
, Gezora, Moguera (built by the Mysterians), Varan, Hedorah, Baragon, Gigan, Mechagodzilla, King Ghidora, Shadow of Red, Orga, Obsidius, Krystalak, Giygas, getting in trouble by the law enforcement, etc.