What do you mean?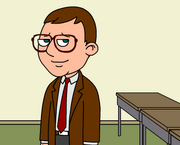 The page Curiousgorge55 has unreadable grammar. You can help fix the grammar by editing this page!
Example of good grammar: How dare you sleep in school and get expelled! You're grounded!
Example of bad grammar: How Dare You Sleeping in School Gets Expelled! You Grounded!
Dempo is (Demo for Short 303903 on Youtube Raven try Termined all Accout so Zavio kill her and by the Teen Titans GO! Fanon StarFire never go Rage like Raven because superman do that too ) Zavio Youtube Username is ZaviotheGamer 000000 Zavio Send Request to Dempo (Demo) though she already is in love with Preston Evergreen (a Game character from the 1991 Sonic CD Was Zavio Favorite Game into it was sold out When K-A (kids to adults) Changed Zavio got his Hooded Cape with horns Zavio is Half Human and a Half Ghost (hall him Half Demon some time
Friends: Zavio
Enemies Raven (TEEN TITANS GO!)
Voice: Caillou
Favorite Game: Sonic Colors
Favorite Show: Sonic Undergroud
Favorite Indie Game: Mickey Mouse Games
Born: Haloween 2001
Favorite Game Rating: K-A (Kids to Adults)
Favorite Book Series: Sonic Comic Books
TV Shows he never heard of befor: Gumball
Favorite Windows Operating System: Errors
Trivia
Dempo youtube accout user name is DempoTheGamer(Terminted by Raven so Zavio unterminted it got his accout back) his Lego ID User Name is DempoHatesRavenFromTeenTitansGO!!!
Ad blocker interference detected!
Wikia is a free-to-use site that makes money from advertising. We have a modified experience for viewers using ad blockers

Wikia is not accessible if you've made further modifications. Remove the custom ad blocker rule(s) and the page will load as expected.