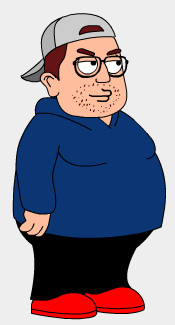 If you're looking for the page about another version of Diesel, see Diesel Ryan
Diesel is the neighbor of a lot of kids (or other users, including Stan Roddenberry (now renamed Bruce Wagner)) or sometimes as a kid. He has a dark blue jacket, black pants, grey hat, dark red hair, red shoes, glasses, and a mustache. He has a Hindi accent.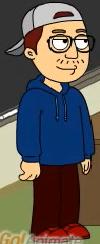 In one video, he appears to be thin instead of fat. Check a video called
"Catherine Gets In Dead Meat".
  He also has a cousin named 
Kate
.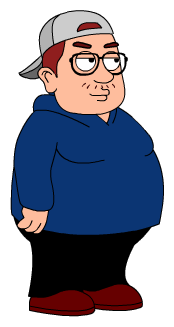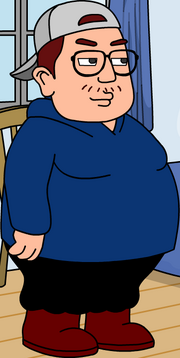 Name: Diesel Marcot/Foster
Age: 50
Birthday: July 20, 1966 
Favorite Fast Food Places: Applebee's 
Family: Eric Marcot, Merrick, Nick
Friends: Barney, Baby Bop, BJ 
Voice: Himself (normal), Eric (sometimes), Kidaroo/Scary Voice (Angry/Furious/Evil), Shy Girl (crying/baby), Brian (thin) 
Enemies: Becky (Sometimes) 
Common term usage: Grounded for life
Quotes
"You are grounded grounded for life! (followed by Coulden's loud roar) Go to your room now!"
"You are grounded grounded forever! Go upstairs to your room now and never come back!"
"(says the troublemaker's name 7 times), GET OVER HERE RIGHT NOW!!!!!"
"YOU ARE GROUNDED (10 times)!!!!!!!!!!!!!!!!!!!!!!!"
"PUT EVERYTHING IN THIS BOX RIGHT NOW!!!!!!!!! WE ARE DONATING TO CHAIRITY!!!!!!!!!!!!"
"YOU WILL NOW SLEEP IN THE LIVING ROOM! GO THERE RIGHT NOW!!!!!!!!!!!!!!!!!!!!!!!!!!"
My name first, then spacebar spacebar spacebar, your name.
The weather forecast calls for eternal darkness. MWHAHAHAHAHAHA!
Before I go, I'm giving you an advice, if a jug says HUGS, do not get it, it may be BUGS.
I thought it said computer HUGS.
Fuck (WARNING! FOUL LANGUAGE. Sorry. This Is A Line He Says Sometime.)
Ad blocker interference detected!
Wikia is a free-to-use site that makes money from advertising. We have a modified experience for viewers using ad blockers

Wikia is not accessible if you've made further modifications. Remove the custom ad blocker rule(s) and the page will load as expected.