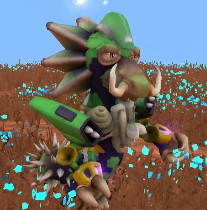 Dojidax is a disobedient, incomplient, and quite foolish Spore creature/student attending the Tracheos University for High School Dropouts and the main antagonist of the short-lived webseries "Dojidax gets grounded". He was created by Tigrus879 in Spore. So far, he has stared in only one grounded video (made with both GoAnimate and Spore Galactic Adventures).
He is also a formidable foe of Tigrus (along with Decepticon Shockwave) and Sophie the Otter.
Statistics
Age: 18
Height: 3 ft.
Alias: Dojidax the troublemaker, Dojifool
Affiliation (GoAnimate & Spore): Shockwave, Megatron, Darth Plesiosaur (from BRR Games [a.k.a. BRRSP]'s Spore Wars series), Darth Vader, Darth Sidious, Darth Maul, General Grevious, Boba Fett, Jango Fett, Jabba the Hutt, King Ghidorah, Orga, Evil Spore Creatures, Super Giant Sonic
Foes '(GoAnimate & Spore)': Peole who call themselves "Good Users", real and fake VHS openers, Tigrus879, OptimusYesMegaNo, Tigrus, Momogowi, Sophie the Otter, Sister Jigglypuff's haters, Sacred Heroes, Sacred Rainbow, Marvel and DC Superheroes, Mickey Mouse, Bugs Bunny, Toothless
Likes/Dislikes
Likes: MLP: FIM, CSI: Los Angeles, Grey Anatomy, MAD TV, Comedy Central, Warner Bros materials (excluding Looney Tunes), Pacific Rim, Kaijus, COPS, Mexican Soap-operas
Dislikes: Cartoon Network, Looney Tunes, Warner Bros shows featuring Looney Tunes characters, Disney movies, Disney Shows, everything else pretty much including GoAnimate
Bonus Picture below: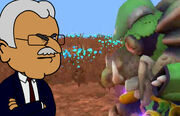 Link to the grounded video and downladable PNG images
Here is a link to his 1st grounded video, enjoy:


http://goanimate.com/videos/0EEbOJhcCQYQ
NOTE: IF YOU WANT TO PLAY AS HIM IN THE CREATURE STAGE OR YOUR ADVENTURES, DOWNLOAD THE IMAGES RIGHT HERE.
GoAnimate Variants
For those eager to start their own "Dojidax gets grounded" series using just GoAnimate (for they either hate Spore or simply can't afford it), here are some "Go-Variants" of this guy:
Ad blocker interference detected!
Wikia is a free-to-use site that makes money from advertising. We have a modified experience for viewers using ad blockers

Wikia is not accessible if you've made further modifications. Remove the custom ad blocker rule(s) and the page will load as expected.