"Are You Out of Your Mind?"

This Article lacks an Infobox, you can help the GoAnimate V2 Wiki by adding one.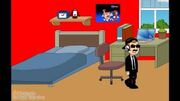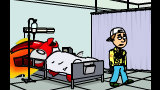 Eric Gavin is a character created by MumaX992. His younger sister Stephane is a little troublemaker, and his older brother Johnny Jr. is huge time troublemaker.
Voice: Eric
Born: July 23, 1992
Age: 25
Likes: Going out with His Friends his Sister Natalie Brother James , Stephanie , his family (excluding Stephane), GoAnimate, YouTube, deviantART, Two and a Half Man, Sonic Boom, SpongeBob, Mario, Sonic, Crash Bandicoot, Transformers, Naruto, Dragon Ball, Call of Duty, Battlefield, Bee Gees, ZZ Top, Green Day, Good Users, good stuff, Hitler McCall, Alan Zucha, Winnie the Pooh (since it's Gabbie's favorite show), etc.
Dislikes: Stephane, Sonic Boom haters like HaloCODYes SonicBoomNo, Foodfight!, Alexei Borodin, Bad Users, bad stuff, diapers and nappies, , Alan Zucha Jimmy Gavin Michael McCall
Friends: Linda and Johnny O'Neil, Derek, Andrew, Adrianna, Eric Marcot, Natalie, Alex Kimble, Erika, Bronies and My Little Pony fans (excluding Stephane), Good Users, Skyler The GoAnimate Girl, MumaX992, My Little Pony Friend InezThomasTheBestChickEver, Solarion Clan of CPSkyYesGCNo (excluding James Sol), Hitler McCall, Alan Zucha James Gavin Stephanie Gavin
Enemies: Alec Borodin, Bad Users, My Little Pony haters and Anti-Bronies, Stephane Gavin , Michael McCall, Alan Zucha, Jimmy Gavin
Family cast
Natalie: Kayla/Salli/(Sister) (Born on July 4th 1992)
Johnny (aka Diesel): Diesel/Simon/Joey (Father) (Born on January 14, 1969)
☀(Death in 2017)
Linda (aka Emma): Salli/Kate/Belle/Emma(Mother) (Born on May 10, 1970 )
☀(Death in 2017)
Stephanie: Ivy/Kendra (Sister) (born on September 5, 2003)
James: Joey (Brother) (born on
☀September 25, 1980)
Terrance: Steven (Twin Brother) (born on April 28, 2007)
Gabbie: Kayla (Twin sister) (born on April 28 , 2005)
Fred: Dallas (Younger brother) (born on September 7, 2009)
Appearance