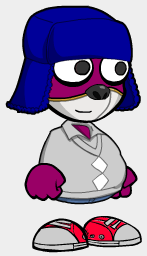 Fat Jelly Otter
is an obese, unemployed, evil version of
Jelly Otter
from
PB&J Otter
. She is a troublemaker who constantly swears and likes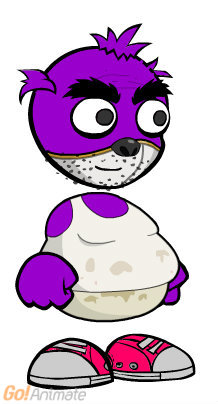 torturing her normal version. She is friends with
Hungry Pumpkin
, Warren Cook, and other bad users and villains. She lives with her adoptive rich pig father named Grease (whose wife Snort was murdered by Penny and Mitch) and her 3-year-old little pig brother named Oink. She was adopted by Grease when she was 16 months old.
Date of Birth: April 1st, 2009
Age: 7
Species: Otter
Voice: Kayla
Reason of Death: Executed on Saving Peanut Otter: A GoAnimate Special
Likes and Dislikes
Likes
Beavis and Butthead, Family Guy, South Park, The Simpsons, Futurama, Bob's Burgers, American Dad, The Cleveland Show, My Little Pony: Friendship is Magic, Littlest Pet Shop, The Boondocks, WWE, ESPN, Cake Boss, Supernanny, Nanny 911, Here Comes Honey Boo-Boo, Dance Moms, Toddlers & Tiaras, 19 Kids and Counting, Family Matters, Step by Step, The Big Bang Theory, Jersey Shore, Call of Duty, Newgrounds, Addicting Games, YouTube, Dailymotion, Facebook, Twitter, iPhone, iPod, Android, iPad, Playboy Magazines, YouTube Poop, GoAnimate, Friday the 13th, A Nightmare on Elm Street, SpongeBob, Brickleberry, Titan Maximum, 6teen, Stoked, Total Drama, Phineas & Ferb, Power Rangers, Marvin Marvin, Breadwinners, Sanjay and Craig, Drawn Together, Angry German Kid, Scary Maze Game, Angry Video Game Nerd, Nostalgia Critic, Nyan Cat, Annoying Orange, Flappy Bird, Angry Birds, Minecraft, World of Warcraft, Wizard 101, Subway Surfers, Fruit Ninja, 3D Movie Maker, Star Trek, Call of Duty, Eminem, Jay Z, Ke$ha, Kanye West, Green Day, Lil' Wayne, Puff Daddy songs, Adult Swim, McDonald's, Burger King, Wendy's, KFC, Jack in the Box, Chick-fil-A, Arby's, White Castle, Chuck E. Cheese's, Peter Piper Pizza, Dunkin' Donuts, Carl's Jr., IHOP, Long John Silver's, Dairy Queen, other fast food places, Cartoon Network, Nickelodeon, TLC, MTV, making inappropriate raps, Hotel Mario, The CD-i Zelda games, Bad Users, Trolling, Creepypastas, Pop'n Music, Halo, Slenderman, Roblox, Temple Run, Line Riders, World's Harvest Game, Ender's Game, Rocko's Modern Life, Philips CD-i, Megaman.
Dislikes
Disney stuff, 1980's music, Cyndi Lauper, Madonna, Care Bears, Oink, Grease the Pig, her normal counterpart, SERGEANTCOMMANDARMY, Good Users, Sophie the Otter, Opal Otter, Ernest Otter, Peanut Otter, Baby Butter Otter, Getting grounded, getting jailed, getting sent to the audience, DiC, Magic Window, Super Mario (except for Hotel Mario), Bubble Bobble, Hello Kitty
Trivia
She likes to eat potato chips messily and loudly.
Ad blocker interference detected!
Wikia is a free-to-use site that makes money from advertising. We have a modified experience for viewers using ad blockers

Wikia is not accessible if you've made further modifications. Remove the custom ad blocker rule(s) and the page will load as expected.