Frederick "Fred" Gregory Jones is an original fictional character created by shanell0420.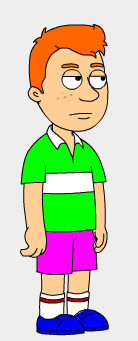 Bio
Name: Frederick "Fred" Gregory Jones
Nickname: Freddy, Fred, Rick, Fredley or Ginger Kid
Age: 14
Gender: Male
Date of Birth: August 7, 2002
Grade: 9
Voice: Brian
Nationally: British
Angry Voices: Kidaroo/Scary Voice
Friends: Gumball Waterson, Maya Hart, Riley Matthews, Darwin Watterson, Haruhi Suzumiya, Star Butterfly, Dipper Pines, Steven Universe, etc.
Likes and Dislikes
Likes: Degrassi, Lizzie McGuire, non-baby shows, Godzilla movies, Terminator movies, Disney movies, Unreal Tournament, PewDiePie, Steven Universe, Gravity Falls, Phineas and Ferb, Wander Over Yonder, The Hunger Games, Minecraft, indie horror games, etc.
Dislikes: Johnny Test, Lothos GrandChase, modern-day sitcoms, etc.
Trivia
He went through puberty when he was 11.
Ad blocker interference detected!
Wikia is a free-to-use site that makes money from advertising. We have a modified experience for viewers using ad blockers

Wikia is not accessible if you've made further modifications. Remove the custom ad blocker rule(s) and the page will load as expected.