Hatsune Miku Comedian 2015 formerly known as Amy Kawaii is a female GoAnimate user, who joined Go!Animate in June 2014.
History
GoAnimate
hatsune Miku Comedian 2015 joined Go!Animate back in June 2014 as Amy Baker. Back then, she had not discovered ' Grounded ' videos and she did later that month and started making Grounded videos. 
When she got GoPlus in September 2014 (age 11), she changed her Name to 'Amy Kawaii'. She kept the name until just before 2015, she became HatsuneMiku Comedian 2015 and got a new look. She loves Hatsune Miku, although once she was going to make a grounded series out of them, which got critizied and cancelled.
Apperance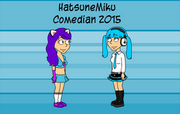 She is the girl with the purple hair. (DUH!)
Ad blocker interference detected!
Wikia is a free-to-use site that makes money from advertising. We have a modified experience for viewers using ad blockers

Wikia is not accessible if you've made further modifications. Remove the custom ad blocker rule(s) and the page will load as expected.