Hotel OJ is from Inanimate Insanity 2. It's owner is OJ.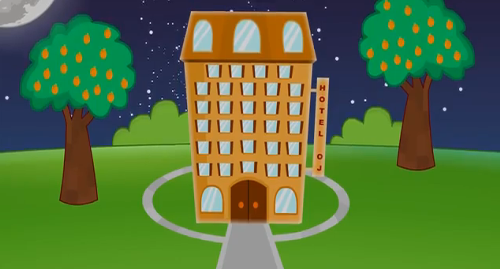 Characters in it
OJ
Bomb
Salt
Pepper
Pickle
Paper
Refurbishment
One day, after Fat Jelly Destroyed Hotel OJ it was up for refurbishment. All the people in it were injured. Good thing Fat Jelly got grounded for it! The refurbishment took 40 hours to finish. That's why Fat Jelly is grounded for life!
Not Allowed In
Because Fat Jelly destroyed Hotel OJ, they made a list of people that are not allowed. Here they are:
Fat Jelly
UTUBETROLLPOLICE
Evil Leafy
Nixels
Major Nixel
Bad Users
Evil Green ProDuctions
Dojidax
Location
It's at Lake HooHaw, near Chuck E. Cheese. It's real location is Florida. It has lots of luxury, as shown in the picture. It's near Disney World. It's part of Downtown Disney.
Staff
OJ
PaperPizza
Sophie the Otter
Davidtheanimationguy
Igor the Mii
Green ProDuctions
Ad blocker interference detected!
Wikia is a free-to-use site that makes money from advertising. We have a modified experience for viewers using ad blockers

Wikia is not accessible if you've made further modifications. Remove the custom ad blocker rule(s) and the page will load as expected.