James the Red Engine is the red engine unlike edward who is the blue engine but both him and edward cause trouble together! He cries like a baby a lot and he is also angry a lot like how Gordon is! There is this Red Engine James and there's that Blue Engine Edward but there is also the Green Engine Henry!
Info
Date of Birth: January 23, 2013 (Engine: 1920's)
Age: 32
Voice: Eric
Gender: Male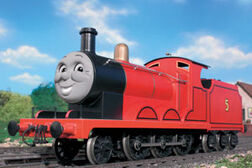 Configuration: 2-6-0 (OOOo)
Ad blocker interference detected!
Wikia is a free-to-use site that makes money from advertising. We have a modified experience for viewers using ad blockers

Wikia is not accessible if you've made further modifications. Remove the custom ad blocker rule(s) and the page will load as expected.