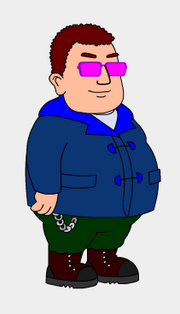 Jon is a troublemaker who always cause destruction along with his best friend Sheldon, and they both like anything scary and anything cool; but they do both have different personalities and birthdays. He always helps other troublemakers, and he is the other troublemaker's allies.
Info
Date of Birth: August 2nd, 1993
Age: 22
Voice: Simon
Gender: Male
Best friend: Sheldon
Likes and Dislikes
Likes: Nightmare on Elm Street, Call of Duty, Murderers, Weapons, Killing Baby Shows, Transformers Film series, etc.
Dislikes: Anything Japanese, Pokemon, Digimon, etc.
Ad blocker interference detected!
Wikia is a free-to-use site that makes money from advertising. We have a modified experience for viewers using ad blockers

Wikia is not accessible if you've made further modifications. Remove the custom ad blocker rule(s) and the page will load as expected.