"How can you explain this?"

This article (March 2014 grounded video warning) is a stub. Why don't you help The GoAnimate V2 Wiki by expanding it?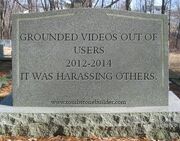 On March 18, 2014, a GoAnimate site admin, Dan the Handsome, warned that making grounded videos out of users is cyberbullying which violates their Terms of Use. This created loads of controversy and criticism.
Misunderstanding
Many people misunderstood can no longer make grounded videos. However, according to Nicolas Lassas, another GoAnimate admin, that actually meant grounded videos out of users, not fictional characters.
Ad blocker interference detected!
Wikia is a free-to-use site that makes money from advertising. We have a modified experience for viewers using ad blockers

Wikia is not accessible if you've made further modifications. Remove the custom ad blocker rule(s) and the page will load as expected.