Mickey Mouse

GoAnimate appearance

Born

November 18, 1928 (age 88)

Gender

Male

Voice(s)

IVONA Eric
Cepstral/VoiceForge Charlie/Young Guy
NeoSpeech VW Paul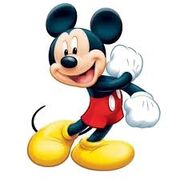 Mickey Mouse
is an extremely famous cartoon mouse, whom was created by Walt Disney. He is the world's most famous Disney character. He made his debut in the short film Steamboat Willie in 1928. Mickey Mouse has also been the mascot for The Walt Disney Company since his debut.
About
Friends: Donald Duck, Daisy Duck, Goofy, Pluto (his dog), Minnie Mouse (his girlfriend)
Enemies: Non Disney Chars
Ad blocker interference detected!
Wikia is a free-to-use site that makes money from advertising. We have a modified experience for viewers using ad blockers

Wikia is not accessible if you've made further modifications. Remove the custom ad blocker rule(s) and the page will load as expected.