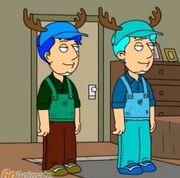 Moe and Joe are a set of male twins created by Phillip Psareas (AKA Psareas Animations). They are troublemakers who are fans of Warner Bros., Turner Broadcasting System, and Cartoon Network. 
Voices: Eric (Moe), Simon (Joe)
Likes: Warner Bros., Turner Broadcasting System, Cartoon Network, Hanna-Barbera, Codename: Kids Next Door, Dexter's Laboratory, Cow and Chicken, I.M. Weasel, Johnny Bravo, The Powerpuff Girls (Both 1998 and 2016), Ed, Edd n' Eddy, Courage the Cowardly Dog, Mike, Lu, & Og, Sheep in the Big City, Whatever Happened to Robot Jones?, The Grim Adventures of Billy and Mandy, Foster's Home For Imaginary Friends, 6teen, Stoked, Camp Lazlo, Squirrel Boy, Class of 3000, My Gym Partner's a Monkey, Out of Jimmy's Head, Chowder, The Marvelous Misadventures of Flapjack, Total Drama, Adventure Time, Regular Show, Amazing World of Gumball, Uncle Grandpa, Steven Universe, Clarence, We Bare Bears, Looney Tunes, Animaniacs, Tiny Toon Adventures, Cats Don't Dance, Osmosis Jones, Happy Feet, Fast Food Restaurants, Harry Potter film saga, The Hobbit (film saga), YouTube, bad users, The LEGO Movie, Pacific Rim, and Batman v Superman: Dawn of Justice
Dislikes: Anything not made by either Warner Bros., Turner Broadcasting System, and Cartoon Network, Disney shows and films, raw eggs, swiss cheese, grape nuts, prunes, getting grounded, Hasbro, Viacom, Disney Channel, Nickelodeon, SpongeBob SquarePants, Rugrats, TUFF Puppy, The Fairly Odd Parents, Kappa Mikey, The Penguins of Madagascar, Sanjay and Craig, Harvey Beaks, The Loud House, House of Mouse, Phineas and Ferb, Fish Hooks, Gravity Falls, Mickey Mouse (2013), Star Vs. The Forces of Evil, Kick Buttowski, Randy Cunningham: Ninth Grade Ninja, Lab Rats, Atomic Betty, My Little Pony: Friendship is Magic, My Little Pony: Equestria Girls, Littlest Pet Shop, Pound Puppies, Dan Vs., Kung Fu Panda, Bionicle, Transformers Live action movies, Transformers: Rescue Bots, The Simpsons, Family Guy, South Park, Drawn Together, American Dad, The Cleveland Show, Bob's Burgers, Wander Over Yonder, Recess, Teacher's Pet, Kim Possible, The Proud Family, PB&J Otter, Little Einsteins, Mickey Mouse Clubhouse, Handy Mandy, Imagination Movers, Special Agent OSO, The Octonauts, Jake and the Neverland Pirates, Sofia the First, Doc McStuffins, Henry Hugglemonster, PJ Masks, The Lion Gaurd, Doug (Both Nick and Disney), Stanley, Rolie Polie Olie, Fievel's American Tails, Woody Woodpecker, Chilly Willy, The Avengers, Star Wars, Star Trek, James Bond Jr., Barney & Friends, Sesame Street, Thomas & Friends, Mr. Rodgers' Neighboorhood, Teletubbies, Between the Lions, Franny's Feet, Peppa Pig, Daniel Tiger's Neighborhood, Blue's Clues, Dora the Explorer, Go Diego Go, Wow Wow Wubbzy, Care Bears, Dragonball Z, Sailor Moon, Yu-Gi-Oh, One Piece, Naurto, Bleach, Death Note, Fullmetal Alchemist, Fairy Tail, Sword Art Online, Attack On Titan, Kill La Kill, Akame Ga Kill, Super Mario Bros, The Legend of Zelda, Kirby, Sonic the Hedgehog, Discovery Family, Universal Pictures, 20th Century Fox, Dreamworks, DHX Media (Minus its programs that are related to Warner Bros.), Turner Broadcasting System, or Cartoon Network), PBS Kids, Nintendo, Sega, Capcom, Atlus, EA, Activision, and good users
Family:Mom,Dad,Joesph,Lance, Moe and Joe and JaegersYes KaijusNo and PriceYes SheperdNo
Friends: Warren Cook, Penny & Mitch, Enderman, Theory T, Bobbyispoopy, NopeComedian, SallyJones1998
Enemies: Phillip Psareas, MountainDewGuy2001, Sophie the Otter, SERGEANTCOMMANDARMY/AWESOMEADRIEHL (A.k.a AdminAdriehl), Justdancingsamuel, Coulden Pettit, LouieLouie95, David Matson (DavidTheAnimationGuy/DavidComedian1991), WilliamWill2343, Igor the Mii,
Ad blocker interference detected!
Wikia is a free-to-use site that makes money from advertising. We have a modified experience for viewers using ad blockers

Wikia is not accessible if you've made further modifications. Remove the custom ad blocker rule(s) and the page will load as expected.