This page (Nixels) does not have a GoAnimate Counterpart, you can help the GoAnimate V2 Wiki by adding one. If a GoAnimate Counterpart is not added in 1 week after this notice is added, this page will be moved to the Creation Wiki. If related to Nintendo, Sega, or both, it will be moved to FanonLand Wiki. If related to anime or manga, it will be moved to Nihon Fanon Wiki.
Bodyguards! Protect the page Nixels!

This page is protected by the admins to prevent vandalism.
The Nixels are a group of annoying block creatures, that want to take over the world by annoying everyone in it. They like to steal Mixels' Cubits (with other creatures, your MOST PRIZED POSESSIONS replace the Cubits!). THEY'RE THAT STUPID!
Major Nixel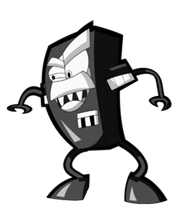 Major Nixel
is the leader of the Mixels, and by far, the smartest.
Date of Birth: February 12, 1964
Ad blocker interference detected!
Wikia is a free-to-use site that makes money from advertising. We have a modified experience for viewers using ad blockers

Wikia is not accessible if you've made further modifications. Remove the custom ad blocker rule(s) and the page will load as expected.