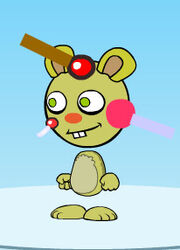 Nutty is a Happy Tree Friends character who is a troublemaker who robs candy stores before Lifty and Shifty does. He wears Yellow Shoes & White Pants He Was made by Adamkleinschmidt2003. More information about Nutty in: http://happytreefriends.wikia.com/wiki/Nutty
Friends: Scootatoo Dash, Sunset Shimmer (formerly), Lifty, Shifty, Dumb Ways to Die Psycho Killer, Queen Chrysails, Trixie, other My Little Pony villains, Warren Cook, Mime, Mrs. Shawn (Warren's teacher), etc.
Enemies: Handy, Cuddles (For trying to steal Cuddle's Ice Cream Cone and ended up getting Nutty's head stuck in a Bee Hive), Toothy, Robin Hood, Pop, Cub, Twilight Sparkle, Rainbow Dash, Alan Cook (Warren Cook's Dad), etc.
Born: October 31, 2005.
Death: April 21, 2013.
Age: 7 (At Death)
Voice: Kidaroo and Young Guy.
Ad blocker interference detected!
Wikia is a free-to-use site that makes money from advertising. We have a modified experience for viewers using ad blockers

Wikia is not accessible if you've made further modifications. Remove the custom ad blocker rule(s) and the page will load as expected.