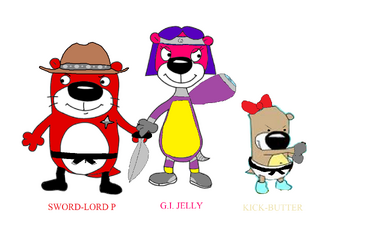 The PB&J Combat Crew is PB&J (from PB&J Otter)'s alter ego team. It consists of Swordlord P, G.I. Jelly, and Kick-Butter. They were formed in
The Ultimate GoAniquest
. From time to time, they are still usually referred to by their real names and are occasionally addressed by their alter-ego names.
Members
Swordlord P: Peanut Otter's alter ego. He is a sword-wielding child wearing a cowboy hat, a black belt, and a star badge. He battles opponents with his trusty sword. He can also throw katanas and chakrams.
G.I. Jelly: Jelly Otter's alter ego. She is dressed in a hi-tech armor suit that protects her body (except for her head) from strong blows along with a ninja headband. She fires a variety of projectiles from her rather bulky arm cannon.
Kick-Butter: Baby Butter's alter ego. She wears a red hair-bow (which gives her more stamina and distinguishes her from male characters), grey boxing gloves, and a black belt just like her brother Peanut. She can use a variety of boxing moves and generally relies on unarmed combat, making her tougher than her normal ego. She still speaks in only simple words and sometimes phrases.
Trivia
They are based off their Mii Fighter counterparts Sophie has made in SSB for the 3DS.
Ad blocker interference detected!
Wikia is a free-to-use site that makes money from advertising. We have a modified experience for viewers using ad blockers

Wikia is not accessible if you've made further modifications. Remove the custom ad blocker rule(s) and the page will load as expected.