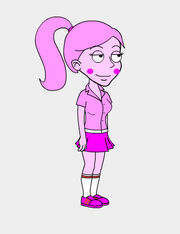 Sister Happiny (Born July 10, 2005) is a trouble maker and friend of Sister Jigglypuff. She makes fun of people, and loves telling her parents off. Her parents were Diesel and Amy. She was voiced by Shy Girl. She goes to school with Sister Jigglypuff and gets in trouble together. The Pokémon she represents is Happiny, the pre-evolved form of Chansey.
Ad blocker interference detected!
Wikia is a free-to-use site that makes money from advertising. We have a modified experience for viewers using ad blockers

Wikia is not accessible if you've made further modifications. Remove the custom ad blocker rule(s) and the page will load as expected.