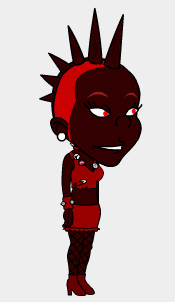 The Xoilers are a variety of small, evil, troublesome animals created by scientists and former members of the UTUBETROLLPOLICE who initially appeared in "GoAnimate Adventures". These creatures in reality, were created by Tigrus879.
Statistics/Info
Personality
Usually, Xoilers have this mentality in which they claim themselves to be superior towards humans (which is completely preposterous since Xoilers are weak compared to humans). These creatures also are aggresive; confronting any living being on their sight (excluding plants obviously). Some of these Xoilers (including one named Tielsie) are tranquil and can befriend the animals they despise most, humans and lions. Sadly, most of the Xoilers are hostile predators who claim to be superior towards the dominant species on Earth, humans.
General Stats
Lifespan: Infinite (though they're not immortal; they can only be murdered by man-made weapons)
Diet: Mostly meats, beans, casseroles, and pastrami sandwiches
Height: 2 feet
Weight: 75 lbs
Metabolism: Low
Kingdom: Animalia
Phylum: Chordata
Class: Mammalia
Order: Xoiliakna
Genus: Xoilardum
Species: Veristris
Type: Malicious Animals
List of living and deceased Xoilers
This section consists of info about the living and deceased Xoilers:
Dominant Xoilers
Tielsie the Xoiler (one of the few who could talk in a french accent; also the only one who received the most screentime in GoAnimate Adventures)
Zurrtu the Xoiler (the only Xoiler who could swim)
Maxcays the Xoiler (the only Yellow Xoiler)
Submissive Xoilers
Frederick the Xoiler (the only Herbivorous Xoiler)
Lisa Caserroni the Xoiler
Kaverick the Xoiler (the eldest living Xoiler)
Hendry the Xoiler (the youngest living Xoiler)
Deceased Xoilers
Ref'da'fg the Xoiler (was drowned to death)
Guurgoit the Xoiler (a famous Xoiler who was poached)
Padloied the Xoiler (mutilated by a group of lions)
VasVasDas the Xoiler (eaten by a killer whale)
Vi the Xoiler (the only one who died of natural causes)
Jlongt the Xoiler (murdered by a butterfly, yes, even A BUTTERFLY, could kill an Xoiler)
Appearances
TV/Webseries:
GoAnimate Adventures (2014-Present)
Films:
The Great Warriors, a GoAnimate Adventures movie (2014-2015)
Tigrus879 the movie 4 (2015)
Other Breeds
Like most animals, there are breeds of Xoilers such as Xoilons, Xoikos, and Ced'ves.
Tigrus879 will soon publish pages describing each breed.
Gallery
Ad blocker interference detected!
Wikia is a free-to-use site that makes money from advertising. We have a modified experience for viewers using ad blockers

Wikia is not accessible if you've made further modifications. Remove the custom ad blocker rule(s) and the page will load as expected.