"Are You Out of Your Mind?"

This Article lacks an Infobox, you can help the GoAnimate V2 Wiki by adding one.
About
Gender: Female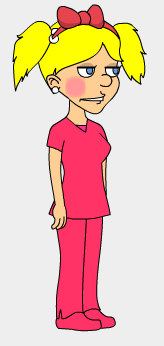 Age: 7
Voice: Shy Girl
In GoAnimate, Tiffi is a very naughty girl indeed; mainly because she is from the game Candy Crush (Saga)! In the GoAnimate world, she steals everyone's candy and switches out good candy with black liquorice. Tiffi is a character in Candy Crush, owned by King.com!
Trivia
~She has a twin underwater sister named Juli
~Tiffi could be the daughter of Mr. Toffee, who is also from the same game
~This picture below Tiffi's GoAnimate appearance (actual appearance) was the 666th photo added on this wikia!
~An example of a Candy Crush Level (Lv400): https://www.youtube.com/watch?v=gxOFBuFIhpI