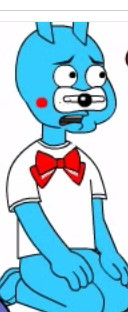 Toy Bonnie is a blue, crazy and toy animatronic bunny who is a character in Five Nights at Freddy's 2!
He is a evil on some people's videos, and nice on Theskylander's videos because theskylandertroll likes to F##k around with other people's grounded series

.
Info
Name: Toy Bonnie
Location: Freddy Fazbear's Pizzeria?
Game: Five Nights at Freddy's 2
Friends: the Mangle, Toy Freddy, Toy Chica, Freddy Fazbear
Voice(s): David, Eric, Kidaroo
Trivia
 His exoskeleton eyes don't show in rare times
He is sometimes considered as a troublemaker (But mostly on MichaelTheGoAnimateDude's Series)
He has some similarities to Noddy.

They both have eyelashes, making people confuse them for girls.
They both wear bowties.
They are both voiced by David.
They both are more often than not portrayed as troublemakers.
Gallery
Ad blocker interference detected!
Wikia is a free-to-use site that makes money from advertising. We have a modified experience for viewers using ad blockers

Wikia is not accessible if you've made further modifications. Remove the custom ad blocker rule(s) and the page will load as expected.