Twilight Sparkle is an Alicorn pony, formerly a unicorn. She is usually portrayed as a non-troublemaker in GoAnimate, but there are some exceptions.
Info


Born: 3rd of September 1997
Voice (GoAnimate): Salli, Kayla, Kate, Eric, Julie, Ivy (as a foal), Kimberly (TheFabulousDC03's version, as a foal)
Voice (Cartoon): Tara Strong (speaking), Rebecca Shoichet (singing)
Gender: Female
Crush: Flash Sentry, Bart Simpson (from The Simpsons) (Joey Nigro's version) Mephone (6Kaylamagical245 Version)
Friends: Homer Simpson, Bart Simpson, Princess Celestia, Spike, Applejack, Fluttershy, Pinkie Pie, Rainbow Dash, Rarity, Sunset Shimmer, Joey,Jennifer,Kimberly,Mephone.Sonata Dusk (6Kaylamagical245 Version), New Line Cinema
Powers : Star Powers (6kaylamagical245 Version)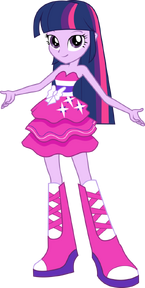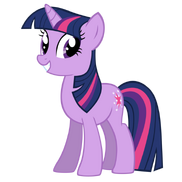 Gallery (TheFabulousDC03's version)
Ad blocker interference detected!
Wikia is a free-to-use site that makes money from advertising. We have a modified experience for viewers using ad blockers

Wikia is not accessible if you've made further modifications. Remove the custom ad blocker rule(s) and the page will load as expected.