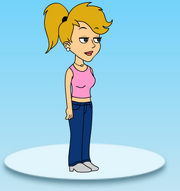 UnitedAirlinesComedian1998 (formerly BaxterYes MemyNo, JohnThe GoAnimateDudem and John Mifflin) was a good user on youtube. Possibly because of his Zara gets grounded videos. His goplus recently expired, however, that does not stop him from making more grounded videos.
Deubt on goanimate- May 2014
Birth date- May 16, 1998
Age-18
Voice-Lawrence, Eric (alt), Wiseguy (angry), Scary Voice (Furious)
Favorite Character on Goanimate- Andrew from DavidComedian1991 and av591iad1
Likes- Grounded videos, Dead Meat videos, Erika, Annabelle, Zack, Alex Kimble, Nemo333m, louielouie95, Andrew, Adrianna, Zoey av591iad1, DonkeyKongAndDiddyKongComedian2014, AntiTrollers2, and any other good user.
Dislikes- Zara, Diesel Dawson, Erika (In JohnComedian589 and asomefirealarmroblox's videos), Jose Marquez, joey Marquez, Warren Cook, GrandChase RealCook, Nerry Marin and any other bad users!
Ad blocker interference detected!
Wikia is a free-to-use site that makes money from advertising. We have a modified experience for viewers using ad blockers

Wikia is not accessible if you've made further modifications. Remove the custom ad blocker rule(s) and the page will load as expected.