The
Video Maker
allows registered users to make a GoAnimate Video. The maker has included pre-made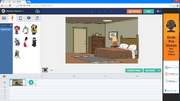 backgrounds, characters, props, music and sound. It has over 100 backgrounds, 1,000 props, over 100,000 characters made by users.
Character Use Plan
Free users are limited to 5 Comedy World characters, 6 Lil' Peepz characters, 5 Chibi Peepz characters, 6 Space Citizens characters, 5 Space Peepz characters, 5 Chibi Ninjas, and users with GoPlus can make their own characters with millions of combinations of characters. All other asset characters can be used and cannot be added even you upgraded to GoPlus.
Video Length Limitations
Free users can make videos up to 30 seconds long, but users with GoPlus or higher can make videos longer than 2 minutes.
Ad blocker interference detected!
Wikia is a free-to-use site that makes money from advertising. We have a modified experience for viewers using ad blockers

Wikia is not accessible if you've made further modifications. Remove the custom ad blocker rule(s) and the page will load as expected.