Withered/Faceless Bonnie

Withered/Faceless Bonnie in GoAnimate form

Origin

The New Freddy Fazbear's Pizzeria

Game appearances

Five Nights at Freddy's 2
Withered/Faceless Bonnie is a deteriorated version of Bonnie, having no face and no left arm.
Info
Friends
Toy Freddy, Toy Chica, Toy Bonnie, the Mangle, Broken-Jaw Chica, Scratch-Marked Freddy Fazbear, Teared-Up Foxy.
Enemies
Jeremy Fitzgerald, Fritz Smith, and good users
Likes
Giving game overs, parties Freddy Fazbear's Pizzeria
Dislikes
Being Scrapped, Jeremy Fitzgerald, Fritz Smith
Trivia
He was Bonnie from FNaF 1, despite FNaF 2 being actually a prequel.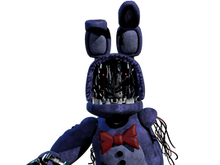 Ad blocker interference detected!
Wikia is a free-to-use site that makes money from advertising. We have a modified experience for viewers using ad blockers

Wikia is not accessible if you've made further modifications. Remove the custom ad blocker rule(s) and the page will load as expected.