Ash-Zilla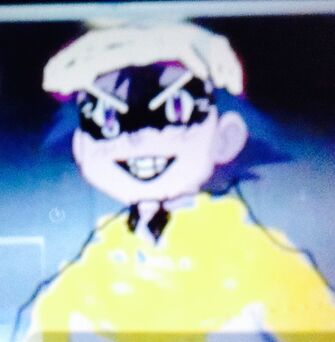 Personality
Is the YouTube poop version of Ash, he is also responsible for turning cheesedoodles65 into a girl or made an evil alex kimble and he is a demon like raven from teen titans go. He is the powerfull youtube poop troublemaker.
Voice: Kidaroo
Likes
Weegee
Dr. Octogonapus
Turning boys into girls
Creating evil versions
Anything made by disney
Dislikes
King Harkinian
Shanghai
Egypt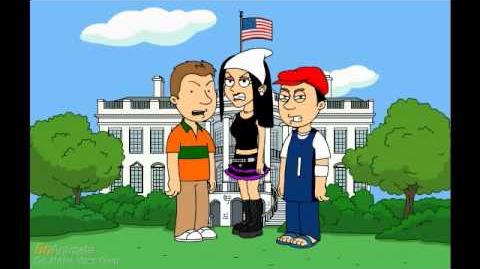 Ash
anime exept disney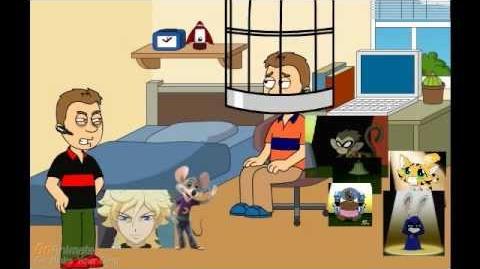 How to create Ash-Zilla
Weegee
Ash's blood
15 pokèballs
Dragonoid's activator
vampires teeth
dragons mouth
And most important, no adding brain
Weegee

Personality
Weegee is an old internet meme that was made from the game Mario is Missing as Luigi`s Sprite. It originated on 4chan and became popular on DeviantArt. While people confuse it with Luigi they are in fact wrong. Luigi is an Italian Plumber while Weegee is an evil being (presumed by some to be a god) bent on universal destruction, leaving their appearance the only similarity. He is believed to be the younger brother of Malleo.
Weegee is known for his extremely powerful gaze. If one sees Weegee, he will have about two seconds before the gaze took effect. If he closes his eyes, his eyelids will melt away, leaving him unable to blink or look away due to paralysis. If he wears sunglasses, he will somehow be fully immune to the stare.
Voice: Eric
Likes
Ash-Zilla
Dr. Octogonapus
Turning boys into girls
Creating evil versions
Anything made by disney
Dislikes
King Harkinian
Shanghai
Egypt
Luigi
anime exept disney
Final (True?) Form
When Weegee is combined with his servants Malleo and Yushee, he becomes an unholy beast of terror known as WEEMALLSHEEGAS. He can actually unite with others, bur WEEMALLSHEEGAS is his most powerful vile form.
You cannot grasp the true form of WEEMALLSHEEGAS!!!
God help us.
Death
When Weegee began to lose his once-loyal followers, his craving for attention turned out to be necessary for his survival and took extreme measures to revive his reign by making a public appearance on the airwaves in Bikini Bottom either claiming anyone watching TV or scaring them out of town. Squidward Tentacles' business in the weed industry was affected by this and was forced to cap the demon plumber.
Squidward hired a number of bounty hunters and assassins to do the job, but none were able to even confront Weegee in his state of power. Squidward then had a team of scientists create a bio weapon that would finish the job and named it Skodwarde. Weegee was unable to fight off the soulless psychopath and was brutally stabbed to death by his successor.
Dark Tails
Weegee once had a secret apprentice, Dark Tails. After Weegee died, Dark Tails swore revenge on Skodwarde, he later held true to that swear, as he used his Death Squad to decimate the Skodwarde Squad.
DarkTeegee Norris
After disappearing, Dark Tails hears about the murderer of PedoBear by the hands of Giywardeaugh, Dark Tails saved the Great Mighty Poo, who in return told Dark Tails wish. Without hesistatig he wish to be the ultimate power and to destroy anyone who gets in his way. The Great Mighty Poo then granted the wish and Dark Tails merged with his former master, Weegee, and Chuck Norris. Dark Tails then awoke as DarkTeegee Norris.
Second Life
Revival
The Coachman revived Weegee by putting the losses of the war into the Fusion Machine, in order to take out the Mewtwo Squad once and for all.
Weegee in this form, was much weaker, and no longer had his viral stare. He regained his strength by witnessing the betrayal of his former student.
New Apprentice
After learning that his old apprentice has turned into a good guy. Weegee got a new apprentice, and taught him all that he taught Dark Tails.
Nobody Controls Weegee
Weegee later had Darth Sonic cut The Coachman in half with his lightsaber, killing him. Weegee then said "Nobody controls Weegee"
How to create a Weegee
Luigi's blood.
A Wombat hair.
The red light of Tails Doll.
A bit of Ki.
A pair of deformed eyes.
Concentrated evil.
A mushroom (mushroom, ring, PSI or whatever in your country).
Sample of poop.
An album of Daddy Yankee (if you want the Weegee is very, very idiot, moron but genius)
A warrior with level 200.
9 pokemons.
All nuts Beelzebub.
Osama's eyes.
And most important, do not add brain.
Dr. Octogonapus
Dr. Octagonapus is one of the main protagonists/antagonists created by Dom Fera in the YouTube animated series, The Lazer Collection.
Appearance
Dr. Octagonapus's appearance consists of a grey-colored jumpsuit and four tendril-like appendages that protrude from his back. He wears shiny black glasses, and has orange hair. When expelling pure energy from his mouth, or "Firin' his lazor," Dr. Octagonapus obtains a larger jaw, and red colored lips and teeth . He also is seen with eyes, and is the only time he is temporarily seen without glasses, with exception to a photograph appearing in the Lazer Collection V where Randall took his sunglasses. He is based off the villain Dr. Octopus.
Voice: Alan
Likes
Ash-Zilla
Weegee
Turning boys into girls
Creating evil versions
Anything made by disney
Dislikes
King Harkinian
Shanghai
Egypt
Being banished
anime exept disney
The Lazer Collection
Dr. Octogonapus made his first appearance in Lazer Collection I. He appeared in a Spider-Man skit.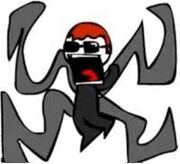 The Lazer Collection 2
Dr. Octogonapus reappears in the seqel, where he blasts two guys and a kid. He tries to shoop another guy, but said guy reacts to Dr. Octagonapus by punching him in the face and firing his own lazer at Dr. Octagonapus.
All three times, it was purposely made so that the audience would suspect one of the characters on-screen to fire their lazor, but the Dr subverts it.
The Lazer Collection 3
His third appearance in The Lazer Collection 3 is when Randall turns out to be his son.
The Lazer Collection 4
He appears randomly, too fast to see properly.
The Lazer Collection 5
In The Lazer Collection V, Dr. Octagonapus accidentally shoops his son, who was behind him. He brings out a robot to shoop people for a total of three times. Each time the robot appears, a theme song can be heard in the background. The Lyrics consist of "Oh S***! Holy S***!" in a slow tempo. At the end of this episode, Cell and Dr. Octagonapus are seen. Cell tells Dr. Octagonapus that he is banished from the council of Shoop for killing his son.
Ad blocker interference detected!
Wikia is a free-to-use site that makes money from advertising. We have a modified experience for viewers using ad blockers

Wikia is not accessible if you've made further modifications. Remove the custom ad blocker rule(s) and the page will load as expected.